Northflank is the full-stack cloud platform, integrating with Git providers and image registries to manage your entire DevOps workflow in one place.
Northflank offers a wide variety of highly configurable services for:
These components all offer access to these underlying features:
Continuous Integration
Continuous Deployment
Continuous Delivery
Logging & metrics
Load balancing
Public & private networking
Environment & secret management
Team management (RBAC)
Northflank integrates with Git providers such as GitHub, GitLab and Bitbucket. You can manage your Version Control System (VCS or Git) in the Git Integration tab in your Account Settings.
Linking GitHub
Connecting GitHub with Northflank is enabled through the GitHub App ecosystem.
When clicking Connect in the Northflank UI, you will be redirected to GitHub's login and application installation page.
Select your team/organisation and select specific/all repositories that you wish to build and deploy on Northflank.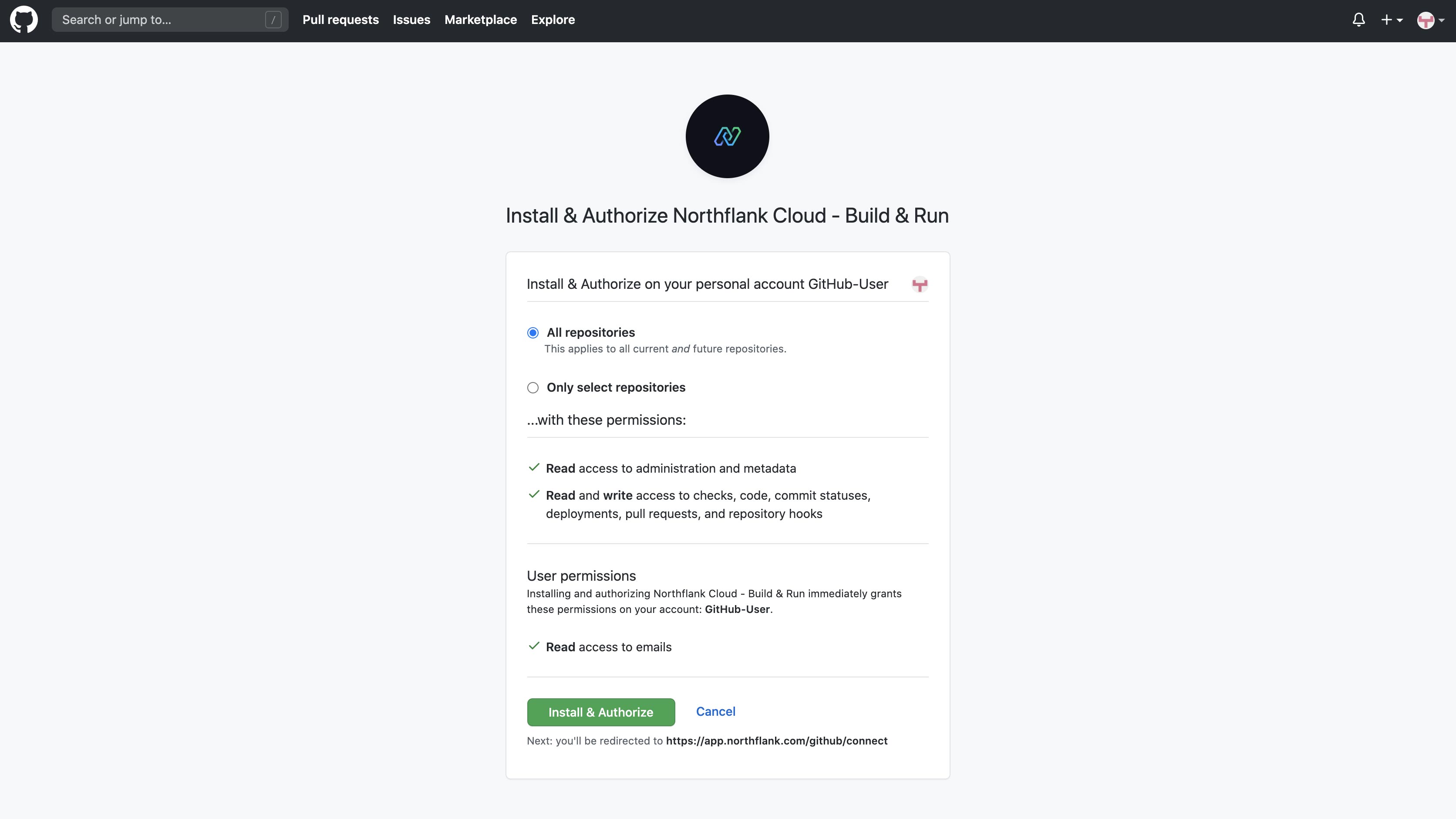 The GitHub app will automatically send Northflank webhooks for events on your repositories enabling to build your branches and pull requests on commit.
You can stop the integration by selecting Unlink GitHub. To completely remove Northflank from your GitHub account, go to your GitHub settings and uninstall the Northflank app.
Working on a team account
When working on a team account, you can link your organisation GitHub or a personal GitHub account to the team. Anyone with permissions to create services or jobs will have access to select the organisation GitHub repositories, as well as repositories linked from their personal accounts.
Only team members with the Team - Update permission can manage the Git Integration on your team account.
When removing GitHub from the team, you can either unlink or uninstall the Northflank app.
Linking GitLab & Bitbucket
Connecting GitLab & Bitbucket with Northflank is enabled via OAuth. When clicking connect in the Northflank UI, you will be redirected to GitLab / Bitbucket to complete the verification steps. All repositories, including repositories that you do not own, are accessible with the connection.
Linking GitLab
To completely remove Northflank from your GitLab account, go to GitLab Settings - Applications and click Revoke.
Linking Bitbucket
To completely remove Northflank from your Bitbucket account, go to Bitbucket Settings - App authorizations and click Revoke.
Working on a team account
When working on a team, you cannot link a GitLab or Bitbucket account. Instead, you can restrict a namespace that can be used for repositories used on the team.
To use namespace restrictions, set the Git Namespaces toggle to Organisation only. Team members will need to have added their own GitLab or Bitbucket account to Northflank, and to have access to the team namespace.
important
If you don't use namespace restrictions, team members can build and deploy any of their GitLab and Bitbucket repositories.
Team members who can manage Git Integration on your team can also manage VCS connections. To learn more about permissions, check Role Based Access Control (RBAC).
Removing GitLab & Bitbucket from the team is possible via unlinking or uninstalling the Northflank app from your GitLab or Bitbucket account.
Northflank gives you a total of three free services with limited resources by default and single instances that consume for combined or deployment service types.
Paid features are available for users who added their card details. We use Stripe to handle card payments and supports Visa, Mastercard, and American Express.
Your card will be debited automatically, and an invoice will be issued at the start of every month for the resources consumed in the previous month. For example, if you spent $10 in May, you will be charged for these in June. If the amount of your monthly bill is small, we may transfer it towards next month.
Adding a New Payment Method
Navigate to your account or team Settings
Click on Create New button in the top right corner
Select Card
Type your Card Details
Click Add Card
Stripe will perform a card verification, you won't be charged. In some cases, you may need to complete additional authentication steps such as 3D Secure.
You can change your default card by clicking Make Default next to the card details on the Billing page.
Monitoring Spending
The Billing page in your Settings shows the breakdown of the current spending per project. When you open a project, you can monitor spending per resources.
note
To stop accruing charges,
pause
your resources or
scale them down to zero
.
important
We recommend checking your account spending regularly to avoid unwanted charges.